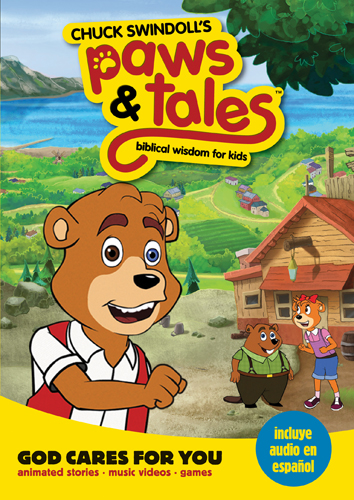 Whether it is Marsha, Gooz, Ned, or CJ, your children and grandchildren will pick out a favorite character and fall in love with the general concept of Paws & Tales! In the DVD, God Cares For You, there are two episodes that will bring smiles to the entire family. In addition, there are games and music videos making this DVD even more valuable to your family.
Inspired by the ministry of Chuck Swindoll, founder of Insight for Living, Paws & Tales is "committed to communicating biblical truth and applying it to real life." The beautiful part of this ministry is that the "kids will be captivated by the adventure, caught up in the laughter, and carried away in the fun…and the whole time they'll be on their way to understanding solid Bible theology."

I watched these videos with my three grandchildren, and let me tell you, they were fascinated. The animation is top notch, as is the writing. There is no "in your face" theology, however, very subtly, the concept of Christ's love is revealed with each passing scene. Perhaps the greatest endorsement is hearing them ask, "Is that all?"
I am holding a giveaway for a free copy of this DVD, so here are some rules and how to enter....
1. Become a follower for one entry into the drawing or if you are already a follower let me know that in the comments section.
2. Blog about this giveaway on your own blog for a chance at 3 entries. Please leave me your blog link with your comment.
4. Gain one entry for tweeting about this giveaway. Leave me your twitter name so that I can follow you and see your tweet;0)
5. This giveaway is open until Saturday February 26, 2011 at midnight. After that the comments section will be closed and I will put all the names in a hat and let my grandchildren children draw a name from it. We will post the winner on Sunday afternoon and the winner will have 24 hours to contact me or I will have the children draw another name.
Simple Right!
I am so excited to be hosting this giveaway and feel that the product will speak for itself.
GOOD LUCK!!!
**I was given a free copy of this DVD in exchange for my honest opinion. I was also given a free product award certificate to giveaway to one lucky reader with no strings attached other than the ways to gain entry. No other compensation was given. This is in conjunction with the guidelines set forth by Tyndale House Publishing**
****Participating bloggers/Website Employees and their families are not eligible to win this prize.****