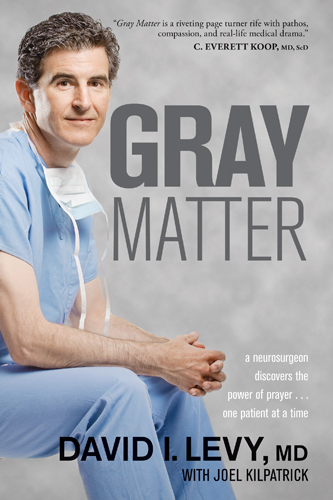 Gray Matter by David Levy, MD with Joel Kilpatrick is a testimonial autobiography of a neurosurgeon's spiritual journey and discovery of the power of prayer, peace, faith, forgiveness, and joy. As he prayed for each patient who so desired, there was a transformation in the surgical department as nurses also requested to join him. Praying for patients also brought forgiveness in his own life as well as resolution of the past in the hearts of Dr. Levy's patients. The author's words paint pictures of medical procedures with terminology the reader can easily understand. Gray Matter can be read in one sitting or each chapter could be read separately to enhance and accompany personal daily devotions. Gray Matter will inspire you to begin or continue your life of prayer. As David Levy so accurately wrote, we pray, "not because I lack confidence but because I am realistic about what I am able to do and confident about what God is able to do."

Through fascinating accounts, we are introduced in these 12 chapters to both medical drama and spiritual insight. As Dr. Levy asks his patients if he can pray for them before surgery we see a varied level of response. Some are taken aback, some welcome the approach, and some are quite literally transformed by the request. I would highly recommend this book to anyone, but especially someone who is facing medical issues and possible surgery.

I received this book free from Tyndale for an advance reading as part of their bloggers program. I was not required to write a positive review and therefore, the book review is 100% my own opinion.