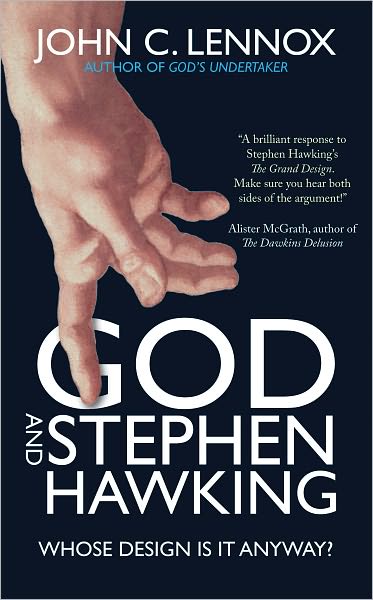 God and Stephen Hawking – Whose Design is it Anyway by John C. Lennox is a response to Stephen Hawking's book, The Grand Design.
Hawking's ex-wife said during their divorce proceedings that he was an

atheist

, but Hawking has stated that he is "not religious in the normal sense" and he believes that "the universe is governed by the laws of science. The laws may have been decreed by God, but God does not intervene to break the laws." Hawking compared religion and science in 2010, saying: "There is a fundamental difference between religion, which is based on authority [imposed dogma, faith], [as opposed to] science, which is based on observation and reason. Science will win because it works."
It is against this backdrop that Mr. Lennox presents his discussion on the issues raised by Mr. Hawking's.

For instance, Hawkins presupposes the existence of gravity as a scientific truth, and by extrapolation – if gravity exists, something could be created from nothing!

The laws of nature play a very important role in the construction of Hawkins theory, and Mr. Lennox demonstrates masterfully the nature of the laws of nature – there is so much order in the universe, the order itself screams, "I was designed!"
This book could be a difficult read for some; Mr. Lennox is obviously a man of high intellect.

He does a great job in simplifying his thoughts, but these are thoughts that are built on quantum mechanics.
Disclosure of Material Connection: I received this book free from the publisher through their bloggers review program. I was not required to write a positive review. The opinions I have expressed are my own. I am disclosing this in accordance with the Federal Trade Commission's 16 CFR, Part 255 : "Guides Concerning the Use of Endorsements and Testimonials in Advertising."